69 Bronze Roadrunner


PLYMOUTH ROADRUNNER
SOLD
1969 PLYMOUTH ROAD RUNNER COUPE, RM21H, 383/335HP, D21 4 speed, 3.55 Suregrip, HD suspension, quick ratio steering, HD brakes, deluxe wood wheel, factory in dash tach, 2 spd wipers, remote mirror, dual rear speakers, rear defog, remote mirror, Road Runner horn, map light, AM/FM, dual mirrors, W21 chrome styled road wheels, chrome exhaust tips, Honey Bronze metallic, black interior, V21 black performance hood paint.

Chrysler Division left it's mark on the history of planet muscle with the production of the iconic Plymouth Road Runner. The condensed version of the restoration report on this particular bird can be summed up in a word.....immaculate. No expense spared with absolute attention to detail through to the undercarraige, this Road Runner has the look and feel of a new car with everything accurately restored according to it's original issue fender tag right down to it's T3 Honey Bronze color. As well, with only show miles driven since completion, this car literally looks like it was restored last week with everything mechanically sorted and in perfect working order down to it's original issue in-dash tachometer.
The Road Runner label of 1969 was your guarantee of certain muscle car intangibles like sleeper styling and 1/4 mile inspired options. The option list for this particular Road Runner is performance oriented with a mix of convenience featuring; A833 4 speed, 8K tach, D91 Suregrip axle, rear defog, AM/FM Solid State radio, S81 sport wheel and includes references, receipts and picture documentation for the entire restoration. As well this is a lifelong West Coast car that still wears it's complete original numbers matching drivetrain and Lynch Road fender tag with all body numbers matching right through to the all important rad support stamp. The 69 Road Runner is parked at the upper echelon of today's classic car marketplace and from an originality and restoration standpoint, this Road Runner is about as good as it gets for the serious buyer. No trades, inspections welcomed. private sale by appointment only. Our service team will ensure that your car will leave to you turn key and professionaly detailed with all the necessary paperwork to register the car anywhere in North America. Buyers are always encouraged to call us direct to answer questions or to assist with purchase arrangements at (604) 617 2225 or Email us at detroit60cars@aol.com Terms and conditions: Vehicle is sold as is with no warranty implied unless otherwise stated in the description.
It was business as usual for the Road Runner that was Motor Trend's car of the year and remained the hottest selling performance car to come out of Plymouth's Win You Over Beat lineup for 1969. Save for radial tires, this Road Runner is absolutely accurate to the way it rolled off the showroom floor in 1969 down to it's V21 black performance hood paint .
The 68 Road Runner was the ultimate Econo Supercar so Plymouth didn't tamper much with the basic idea for the 69 version. A street sleeper in the truest sense of the term, the Road Runner was as close to a wolf in sheep's clothing you could get in a Plymouth road car for 1969.
Restoration highlites for this particular Road Runner include professionaly color sanded and polished Base Clear paint and all new exterior chrome and stainless through to the window reveal moldings with the end result being a car that literally looks like a rolling house of mirrors. As well this is a turn-key, drive anywhere, show anytime car that runs and drives like new with absolutely no issues whatsoever.
One re-paint in it's original T3 Honey Bronze, the finish on this car is immaculate through to the door jams with the pristine theme continuing through to it's date coded exterior glass that's absolutely flawless. Feel free to contact us for further information on this Road Runner at 604 617 2225 between 9AM and 5PM Pacific.
This is a well optioned interior for a Road Runner with everything in perfect working order and in absolutely immaculate condition from headliner to carpet. Performance options here include, Hurst 4 speed, 8K tach and fast ratio steering mixed in with convenience options that include, Music Master AM/FM radio, remote mirror and woodgrained Sport Wheel.
The H Code 383 was a Road Runner/Superbee exclusive that was amped up with performance internals from the 440 Magnum turning the Road Runner into a bona fide street weapon. This is the original numbers matching engine for the car that's been rebuilt to stock standards with every other drivetrain component original to the car from it's A833 transmission to it's 3.55 Suregrip axle.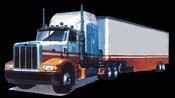 Fast shipping arranged
to anywhere in the world
Contact:
Email: Detroit60cars@aol.com
Business Hours: Monday - Saturday 9am to 5pm Pacific Standard Time. Closed Sundays
.
Sales Phone: (604) 617 2225
Detroit60, 2357 Folkestone Way, West Vancouver, B.C. Canada..

Copyright 1998 Detroit60.com
2357 Folkestone Way
West Vancouver, B.C., Canada
.